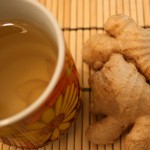 Water
It is a very good habit to get into starting your day by first thing drinking a large glass of water with added organic lemon juice and MSM. We also love to drink ginger water throughout the day. Ginger water is made by pouring a large glass of water, rinsing an organic ginger root, slicing a few thin slices from the root and dropping it in the glass. Water will become lightly flavored and is so refreshing.
Organic Fruit
A large apple a day is very good for you. Include a variety of all fruits, and take advantage of the fruits currently in season. One of our favorite ways to include fruit in our diet as well as super nutritious energy promoting foods is to blend fruit, kefir from grass fed goats or cows (if you eat dairy), a whey protein (such as Teraswhey or hemp protein), water with bee pollen, hemp seeds and a high quality omega 3, 6, 9 oil (such as flax oil).
Juices
Getting a Breville juicer, our favorite due to its power and easy clean up, will allow you to make fresh vegetable and fruit juice to add in as snacks, meal replacements or allow you to juice fast for intense detoxification. Juicing is a fantastic way to start your day as a breakfast. We love keeping it simple at CIC. Our favorite juice is carrot, celery and beets with a little ginger!
Raw Organic Vegetables
A wonderful way to get them into your diet is to have at least one large salad a day and include all your favorite veggies. Some of our favorites are mixed greens, red onion, garlic, cilantro, dill, tomatoes and cucumber – and always add avocado! We use balsamic vinegar, flax or olive oil and sea salt as our dressing. We often will top salad with our choice of clean, lean protein such as a chopped chicken breast. We love this for dinner.
Wholesome Organic Whole Grains
Our favorite whole grain is Ezekiel Sprouted Bread with raw almond butter. You can even add a small amount of coconut butter to toast prior to adding raw almond butter and top with pure organic fruit preserves if you want to be extra fancy. This is often a snack or choice for breakfast. This goes well with a hot cup of organic green tea sweetened with our sweetener of choice – Trader Joe's Organic Stevia. Ezekiel toast is also a fantastic lunch or snack if you put a small amount of coconut oil and add sliced tomatoes and avocados with a touch of sea salt. It's both delicious and nutritious!
High Quality Lean Organic Protein
Organic free range eggs (hard boiled in advance and easy to take with you on the road or to work), fresh water white fish, organic chicken breasts with lime juice and sea salt and low fat organic cottage cheese (if you eat dairy) are among some of our favorite protein sources. Also, always have raw nuts with you. We love walnuts for their omega 3!
Snacks
A large, organic apple or orange, organic baby carrots with hummus, Greens+ Bars and organic dried goji berries are all of our favorite snacks.