INFRARED SAUNA BED
For centuries sweating has been used for a variety of benefits for good health. After treatment, you will experience a metabolic boost resulting in an additional 36 hours of increased calorie burning. We advise against showering for at least two hours after your CIC Sweat Lodge treatment. This will allow your body to continue to sweat until it naturally returns to normal body temperature so you gain maximum benefits. CIC Sweat Lodge clients report a variety of benefits starting with, but not limited to:

Detoxification
Weight loss
Fitness stamina
Muscle recovery
Brighter skin

Deeper sleep
Stress reduction
Increase of endorphins
Mood enhancement
Motivation
SWEAT LODGE
FAR INFRARED RAY BED
At CIC Sweat Lodge, we utilize Far Infrared Ray (FIR) beds. FIR are waves of energy that cannot be seen by your naked eye. They penetrate into the surface of your skin, elevating body temperature and causing sweating, which activates your body systems and functions – FIR are like sunshine! Japanese and Chinese researchers and clinicians have conducted extensive research on FIR heat therapy with remarkable results supporting the significant health benefits of FIR heat therapy.
The sweating caused by FIR is a chief method to naturally-eliminate toxins, chemicals, fats and many other forms of waste in the body. Treatments at CIC Sweat Lodge allows for your body's natural sweating ability to be enhanced, promoting greater cleansing benefits. Your treatment will be a total of 55 minutes in order to assure your body has adequate time for heating up and appropriate detoxification. You also have the option to privately view some of your favorite shows and movies if you wish, helping to relax your mind even more.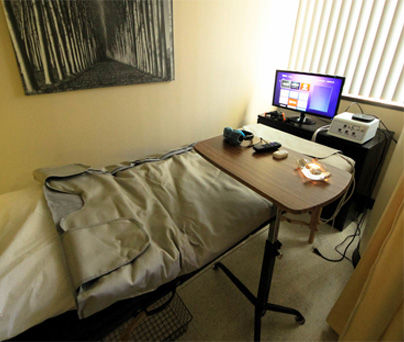 We hold the highest standards at CIC as everything we use is single use and disposable and all surfaces and beds are cleansed with Medical Grade Germicidal Solution. Prior to being enclosed in a CIC Sweat Lodge bed, you will be securely wrapped in a disposable sheet. Please also come prepared with the following: breathable cotton long sleeved t-shirt, long sweat pants, socks, towel, and a comfortable outfit that is dry to change into for trip home after treatment.
CIC has heavy duty Sauna Sweat Suits available for purchase if you do not wish to bring your own clothing to use during the treatment.
Consultation Included
Far Infrared Ray (FIR) Bed
No expiration
Total $360 - consultation included
Far Infrared Ray (FIR) Bed
Package expires in 6 months
Total $660 - consultation included
Far Infrared Ray (FIR) Bed
Package expires in 8 months
Cancel or Change Appointment Policy
Please be aware, we have a strict 24 hour cancel or change appointment time policy. If 24 hour notice is not given, your account will automatically be charged full price for a missed appointment. Please show up on time. Late arrival may be considered a missed appointment that you will also be financially responsible for. We do understand the rare occasion that you may need to make an emergency cancellation.
Thank you for understanding that your therapist is there especially for you and a time slot is saved for you. When given proper notice we can open your time slot to allow a client from our wait list to come. Please be assured that this policy is in place for your benefit as well as ours.